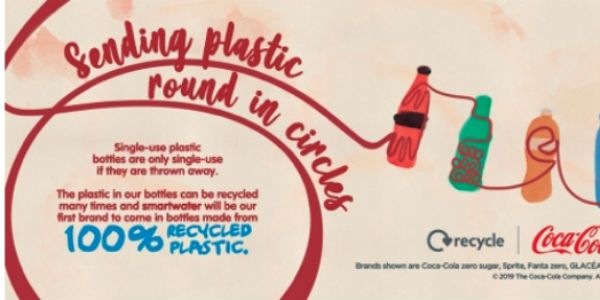 Recently Coca-Cola claimed their single-use plastic bottles cannot be considered to be single-use because apparently, they can be recycled. You heard that correctly and the company is trying to redefine the term single-use and is using its vast marketing budget and had produced television adverts to change people's minds. Conservationists respond arguing that just because a product has the ability to be recycled, that does not mean it is no longer single use.
Dangerous precedent
Team City To Sea thinks it is dangerous to set this precedent for industry, particularly at a time when action needs to be taken to cut down on the amount of single-use plastic and transition towards a society that re-uses plastic. This is why the organisation has reported Coca-Cola to the Advertising Standards Agency but in order to force the company to pull the add, the organisation need you to do the same.
Speak out
If enough people speak out against the type of disinformation the companies like Coca-Cola puts out there, then it can be stopped. Whilst it is a great thing that their bottles are now 100 per cent recyclable, there is a huge difference between something that can be recycled and something that is recycled. Even the company accepts the reality that only a fraction of plastic bottles are recycled. It is estimated in the UK alone, 700,000 littered every day.
Call out Coke
Plastic bottles are consistently amongst the worst polluting items in the UK's beaches and rivers and products from Coca-Cola is the worst offender. They should be spending time and money transitioning away from single-use and become part of the Refill Revolution instead of on misleading advertising. Help #CallOutCoke and take action by complaining to ASA and we've set up a complaint template here.