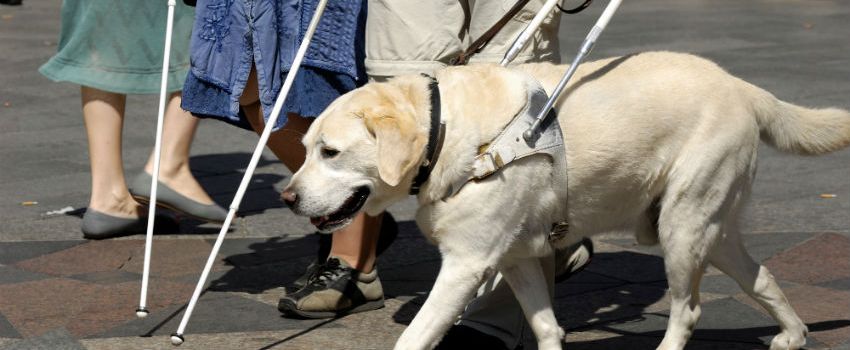 A number of charities from the UK have joined forces to provide easy access to high quality information about sight loss for people suffering from visual impairments or are blind. One of the charities in the partnership includes Guide Dogs whom along with its partners all of advocate for people with visual impairments have shared their expertise to create a new website www.sightadvicefaq.org.uk 
Aggregating information
The new site aggregates content from across the sector and the portal provides answers to questions people have about living with sight loss, have been newly diagnosed with a sight condition or want to learn about more about eye health. The website is useful not just for people who are suffering but also those who provide support including parents partners and friends.
A great opportunity
A spokesperson for the Royal National Institute of Blind People says the website was a great opportunity for all charities involved to collaborate and share resources and expertise. Many people with vision impairment have said they have found it difficult to find the right information at the right time. The new site is easy to navigate and all the participants hope it will become the 'go-to' resource for anyone seeking information about how to live with sight loss.
An excellent resource
A spokesperson for Guide Dogs adds the new portal is an excellent resource for the visually impaired and the charity is extremely proud to contribute towards its establishment. The site is part of Guide Dogs vision of a future where every person experiencing loss of vision has the confidence and support to live their lives to the full.
Raise awareness
A spokesperson for the charity Fight for Sight said their organisation is delighted to contribute towards the new resource which will help people suffering from sight loss. The charity seeks to raise awareness about the latest research taking place into sight loss and the breakthrough that have been made in this field. A spokesperson for the charity Visionary concludes that the joint initiative on information sharing has been fantastic and the organisation is extremely pleased to be involved.
Achieving more
A Vision UK spokesperson says the charity is very excited to be involved in the resource for blind and partially sighted people and for those who would like to learn more about eye health and sight loss. A VICTA spokesperson concluded by saying this has been an extremely fruitful collaboration that shows when organisations work together, everyone achieves more which can only be a good thing.