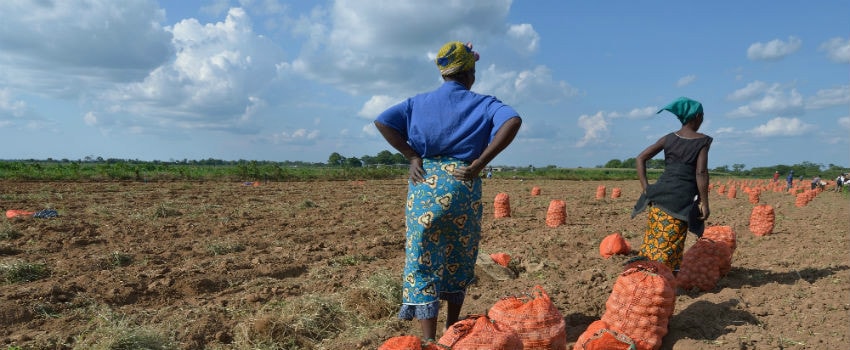 A new report which examines the global supply chains of multinational supermarkets authored by Oxfam has found that millions of people who produce food for the retailers are trapped in a cycle of poverty, with many starving and having to face brutal working conditions. The report claims that all the major high street supermarket chains are increasingly squeezing their suppliers on prices which ultimately feeds through to small scale farmers who actually produce the food. These farmers have very little influence on the price they get paid for their produce and this means that they along with workers are being economically exploited.
Not enough to eat
Oxfam along with a number of other partner agencies polled hundreds of small-scale farmers and workers that participate in the supply chains of UK supermarkets across five different countries. The results show that many of them struggled to feed their families. 9 out of 10 grape workers in South Africa and seafood processors in Thailand, the majority of whom were women, responded by saying they hadn't had enough to eat in the month prior to the one they were polled in.
The results are shocking
Oxfam GB spokesman Matthew Spenser says it is shocking that so many farmers and workers involved in food production for supermarkets end up going hungry. The largest supermarkets in the UK have put pressure on their suppliers to lower costs and this means there is a massive amount of hidden suffering particularly amongst the people who supply food leaving them trapped in a cycle of poverty. According to the study British supermarket chains receive ten times more of the checkout price of common items than the small-scale farmers and workers who produced the goods. These suppliers receive just 5.7 per cent of the checkout price in comparison to 53 per cent received by the supermarkets.
Supermarkets need to enshrine better practices
The authors of the report analysed the policies and practices of the six biggest supermarket chains in the UK and found a striking gap between those policies and what must be in place in order to ensure that human and labour rights are protected in their supply chains. Oxfam together with the Sustainable Seafood Alliance Indonesia looked at the industry in Indonesia and Thailand, which supplies seafood to some of the world's largest supermarket chains including those in the UK. Workers said they were forced to submit to pregnancy tests, had to endure unsafe working conditions, lived in poverty and endured verbal abuse. Clearly this is not acceptable and supermarket chains operating in the UK must ensure the workers involved in their supply chains are treated humanely and equitably.
Behind Barcodes
The report by Oxfam signals the launch of Behind Barcodes which is a global campaign designed to put pressure on supermarket chains and governments to crack down on inhumane working conditions. The campaign seeks to increase transparency so that shoppers know where their food comes from as well as fight for women's rights in the industry and ensure that a larger share of the sales generated by food reaches the people who actually produce it.