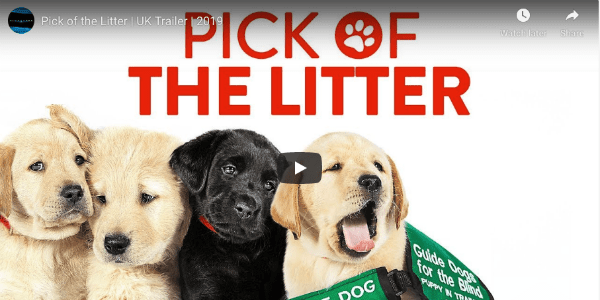 If you have a low tolerance for cuteness and need to aww, then your tolerance will regularly be exceeded as you watch this heart-warming documentary. "Pick of the Litter" features five Labrador puppies that receive training to become guide dogs for the blind. Guide Dogs delivers over 800 puppies every year but only 300 end up actually being paired with a visually impaired or blind individual. The others who do not make the cut during the 20-month training process end up with a "career change" as the trainers put it.
Distinct personalities
When you watch the documentary, you will notice that each of the five labs have their personalities highlighted thanks to the name-tag graphic that appears every time they appear on screen. For the first 16-months the puppies are placed with civilian volunteers to help them socialise and with whom they learn basic skills from. One of the puppies, Patriot seems to have a love for attacking any object that is unusual is paired with a college student that has no experience.
Would have liked a deeper story
The only real criticism of the documentary is we wish that it didn't focus on any compelling human narrative that would have told a deeper story about the relationship between human and animal. Eventually Patriot ends up being paired with a PTSD suffering army vet who insists his puppy is in fact a star, perhaps a reflection of his own needs. Apart from that all the volunteers appear to be anonymous which is a real shame.
Watching the puppies train
With so many puppies featured in the documentary there is little time for in depth familiarity with any of them before they eventually return to the shelter and embark on their formal training. This is where they learn the commands that that will be used during their working lives and must also learn how to be "intelligently disobedient". This is where the guide dog must not comply with the command of its owner if the command were to endanger them. As some of the trainee guide dogs fail to make the cut, their career is montaged and then we are treated to a finale that is short on the stories of their new owners which we would have liked to have seen more of. Check out the trailer.